Explore Our Services & Solutions
Here is a comprensive list of all of our servies. At the end of the day though we can help you with pretty much anything in the world of Resediential and Commercial Plumbing. There's a reason why we have been around for so long.
We are experts in the field of commercial plumbing
Skilled in the art of resedential plumbing too
Tankless Water Heater Installation
Is it time to ditch that old water heater?

Let us upgrade that old tub to a beautiful new one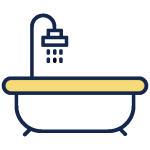 People you can depend on day or night

Water Line & Gas Line Repair
Do you smell something in the air?

Doesn't matter where it's at, we will fix it

We will replace a regular tank style

Whole house gas installation
The size of the house does not matter

Yes we even do apartment buildings

Give your old water heater some new life

New or old, dirty or clean we will install it.
Need Us To Help You? Fill Out Below.
5 Star Rating On Google Reviews!
Here's what customers such as yourself are saying about us. Don't take our word for it!

Lance is great! His bids are very reasonable, his work is quality and we keep calling him anytime we need repair or updates of our plumbing. We first heard about him through a personal recommendation and we've also recommended him to friends. We are very satisfied with Gilbert Plumbing!

Gilbert Plumbing installed dual 50-gallon water heaters to replace my old failing 40 gallon unit. When my old unit began leaking, I needed urgent help. Gilbert Plumbing was responsive to me and quickly put me on the schedule

Lance is a trusted plumber from our friends, I just bought a house and had a leaky hose bib. He came right next day after first call and solved the problem with perfect effective solutions for my new home. Loved it. Highly recommend him for his friendly dependable service.


Lance installed a tankless water heater and replaced a shower valve in one day for a very reasonable price. He was professional and knowledgeable. He took time to come up with a plan with minimal impact on the structure, at the same time maximizing the capacity of the heater. We can't be happier.

Gilbert Plumbing & Mechanical is locally owned and operated. Our Master plumbers and currently serves the Wasatch Front, Box Elder and Davis County.
Gilbert Plumbing LLC
10110 N 6800 W
Tremonton, 84337
Gilbert Plumbing is Licensed and Insured